Halloween may be over but i'm in the middle of an Archivist's nightmare. Along with the other treasures in the Northcott Theatre Archives are 13 wallpaper sample albums crammed full of press cuttings. These albums are not only unwieldy due to their size, but many of the volumes have also had the cuttings taped onto sheets of plain paper which have then been taped into the albums.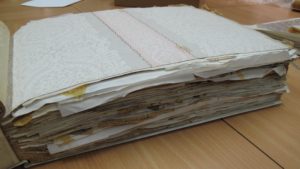 As many of you will know, any kind of adhesive tape is a poor choice for long term preservation. The adhesive from the tape has stained the cuttings leaving brown discolouration and over the years the tape has dried out and many of the cuttings have come loose from the albums. At it's worst this degradation has left us with some albums where there is simply a pile of loose cuttings in the front and in other cases the movement of the cuttings has caused significant creasing and tearing.
The majority of the albums are not in a fit condition to be handled as they are without causing more damage and so the decision has been made to remove the cuttings from the albums where they are already coming loose. Once removed the cuttings will be stored in the order they were in the album (if this is still discernible) and the albums will be retained separately. It sounds simple but it's delicate work and rather time consuming. With five albums completed I have enough loose tape in my bin to remake several rolls.
The cuttings are a fascinating read: containing reviews and general news relating to Northcott Theatre productions, arts funding and other west country theatres, particularly the Plymouth Theatre Royal. The albums themselves are also incredibly interesting, I feel like I have taken a journey through wallpaper history in the past weeks. I've even recognised wallpaper from my parents house – further proof, if any were needed, that it's time for them to redecorate. The presence of the albums is still a little bit of a mystery though. Were they simply a useful receptacle for the cuttings that someone happened to have lying around (perhaps from a second job moonlighting as an interior designer), or were they perhaps used by the set designers? The range is vast; spanning William Morris designs to the bobble textured wallpaper of the 1980's and the office has had great fun revisiting the wallpaper highs and lows of the past. Only 8 more to go….