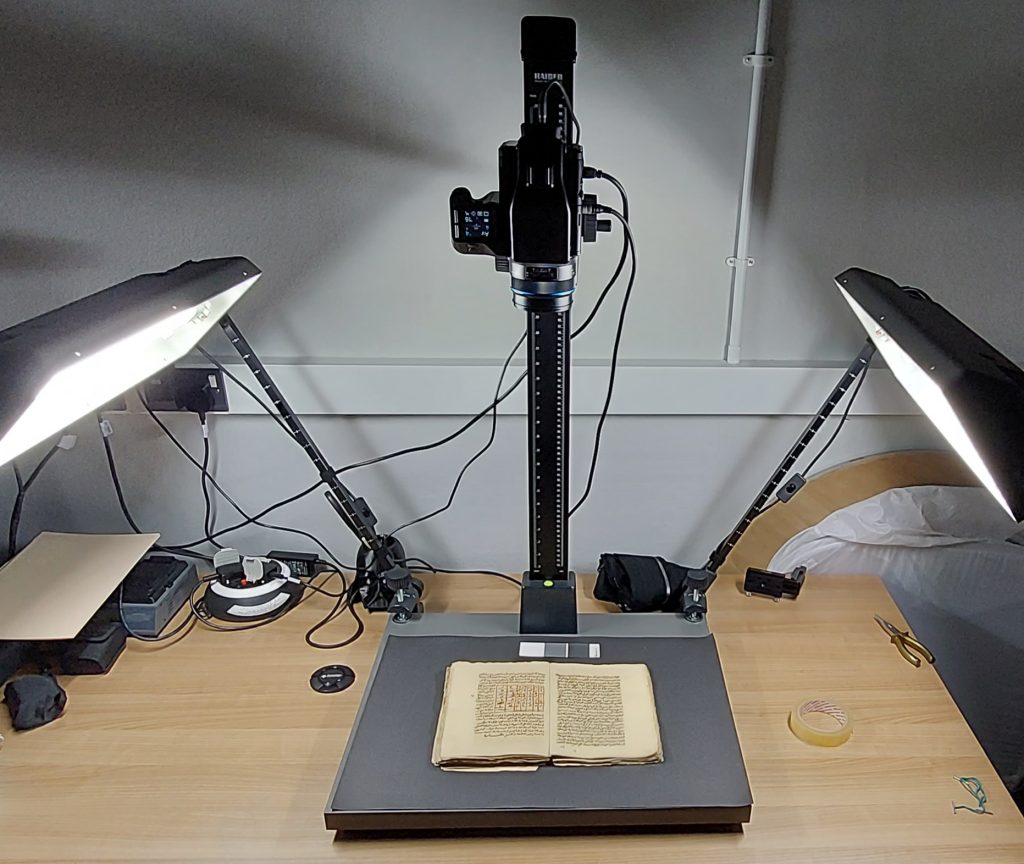 The DAME project was launched in October 2021 in partnership with the University of Tsinghua, in Beijing, and will involve digitising material relating to the Middle East and North Africa (the MENA region) from archives held in the university's Special Collections and documents held in the Arab World Documentation Unit (AWDU), both of which are currently housed in the Old Library.
The focus of the project is not only on digitisation, but also exploring how digital technology and methods can be used to collate, catalogue and analyse the collections, and open up a series of new questions with regard to the modern history of the MENA region. These issues will be examined by a research group made up of PhD students, post-doctoral research assistants and other staff, overseen by a joint Chair. The research group intend to run a series of DAME Research Seminars and also expect there will be publications and other events arising from the project.
The material that will be digitised is drawn from two areas: that relating to the Middle East and North Africa (the MENA region) and documents held in the Arab World Documentation Unit (AWDU). AWDU was started by academics working in Middle East Studies at Exeter in the late 1970s and now constitutes the largest collection of governmental, political, state and economic papers from – and pertaining to – the Arab world from the 1970s to the present. Few other institutions were collecting such material at this time, which makes AWDU of unique value.
Though the core focus of the collections is on the area around the Persian Gulf, the material covers aspects of the wider Arab world, with countries represented in AWDU including Bahrain, Oman, Qatar, Saudi Arabia, United Arab Emirates, Yemen, Kuwait, Iraq, Iran, Egypt, Jordan, Lebanon, Palestine and Syria, as well as Turkey, Morocco and Israel. It also incorporates the Uri Davis collection, which contains over 2,500 books, 600 pamphlets and several hundred periodicals relating to the history of Palestine and the Arab-Israeli conflict. Many of these are rare titles, including administrative documents from the Mandate period.
The number of individual items within the AWDU exceeds 100,000. Some of its holdings include books, periodicals, newspapers, census reports, legal texts and human rights campaign material, amongst much more. Most publications are either in English or in both English and Arabic, with some 3000 books or pamphlets in Arabic alone. A small number of titles are in other languages such as Kurdish, Persian, Hebrew, French and German.
An important part of the DAME project will be selecting what parts of the AWDU should be digitised, examining how and why research potential should be developed by the digitisation process, and exploring the technical and other challenges presented by different types of material. It is also intended that some items from the Middle East archival collections will be digitised for DAME, including uniquely important documents from the Omar Sheikhmous archive (EUL MS 403) relating to Kurdish political history, an undated Arabic manuscript treatise on magic entitled Kitab al-Mujarrabat aka Fath-al-malik al-majid (EUL MS 218), written by 18th century Egyptian legal scholar of the Shafi'i school, Aḥmad ibn ʻUmar Dayrabī (1651-1738), a 19th century lithograph book entitled Shumūs al-Anwār wa Kunūz al-Asrār (the Suns of Light and the Treasures of Secrets) by author Ibn Al-Ḥajj … Al-Maghribi (EUL MS 220) which discusses curious lore concerning plants, minerals, water distribution, earth, medicine, love, blessing, paper cutting, etc as well as two chapters on Jinn activity and healing – or a late 1920s map of Iraq believed to have belonged to the Kurdish specialist C.J Edmonds and marked with his annotations on Yezidi villages.
To keep updated with the project, follow @UoEHeritageColl on Twitter and to find out more about the Special Collections, see: https://specialcollections.exeter.ac.uk.