In November 2016, I began my new role as the project archivist working on the Syon Abbey archive, and immediately recognised that I faced a daunting but exciting task. The archive was large, complex, created over six centuries, and there was no discernible order into specific management groups. Nineteen months and 152 repackaged boxes (in addition to outsize material on shelves and in three plan chest drawers) later, the cataloguing project has been completed, allowing the archive to be more easily searched online and accessed in our reading room. You can view and browse the new archive catalogue here.
The archive has been arranged into 24 sections to reflect the different functions and activities of Syon Abbey, and to provide context for how the records were used. The sections are listed below with their reference numbers.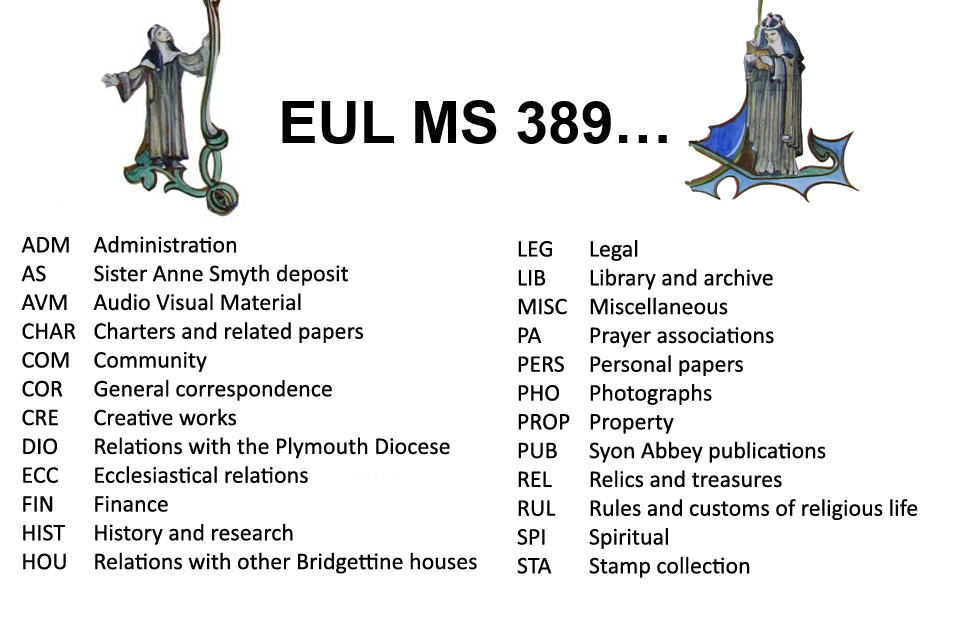 There have been many challenges throughout the course of this project, but there have been an equal number of (if not more) pleasures. With such a large archive, one would expect (as initially did I) that I would have a favourite section or one that I would particularly dislike, but this has simply not been the case. In each of the sections I have found records that have intrigued, moved, gripped or amused me; through each of them I have learnt what makes religious communities, and Syon Abbey in particular, unique, but also identified the many things we share in common; and while sorting through the material I've considered a multitude of different avenues of exciting research that could be – and I hope will be – pursued, now that the archive is more searchable and accessible. Nevertheless, I did want to share a very small selection of my favourite items with you, which you can view in the slideshow below.
As with all things, this project would have been much harder and less joyful if I had gone it alone. Fortunately, I am part of a wonderful team of colleagues who have supported me throughout, and I am very grateful for their kindness and expertise. A special thanks to Angela Mandrioli for her help in interpreting Latin documents and cataloguing papers relating to history and research; and to Sophie Morgan, our student volunteer, who did fantastic work in cataloguing 100 community diaries and 155 vows at item level.
So that just leaves me to say goodbye for now! I have so enjoyed working on this project, which has been my very first cataloguing project as a newly-qualified archivist. The skills I have developed (for example, I can now proudly claim to be capable of making a four-flap folder), the new knowledge I have acquired, and the people I have met through it, have made this project very special to me and I will miss it greatly. However, I am pleased and excited to be continuing in my role as archivist at the University of Exeter's Special Collections, where I will soon be embarking on a new project.
If you're interested in finding out more about the Syon Abbey archive (which I hope you are!), why not check out the new online catalogue, revisit previous blog posts about the Syon Abbey archive, or take a look at our tweets about the archive on Twitter. And don't forget – in addition to the archive, we also look after the Syon Abbey manuscripts and printed books from the Syon Abbey library, as well as several other Syon Abbey related collections. For more information, please contact us at libspc@exeter.ac.uk.
I hope you enjoy your journey of discovery into Syon Abbey!
By Annie, Project Archivist