Following on from cataloguing two very large archives – the Syon Abbey archive and the Common Ground archive – my new challenge in January 2021 was to catalogue a much smaller but no less compelling archive: the archive of Liberal MP, Cecil Bishopp Harmsworth (EUL MS 435).
Cecil Harmsworth was a politician, businessman and the first Baron Harmsworth of Egham. Born in 1869, his political career was launched when he became the Liberal MP for Droitwich in 1906, a position that he held until 1910. He then went on to become MP for Luton between 1911 and 1922. Between 1915 and 1922, he also held several junior ministerial positions within the British government. In 1939, Harmsworth was elevated to the House of Lords and gained the title of 1st Baron Harmsworth of Egham, Surrey. He was also involved in his family's media empire, and published several of his own literary works, including 'A Little Fishing Book' (1942). In 1911, Cecil Harmsworth bought Dr Samuel Johnson's house in Gough Square, London, which he restored and presented to the nation in 1929. Cecil Harmsworth married Emilie Maffet, with whom he had three children. He died aged 78 in 1948.
Cecil Harmsworth had no direct links to South West England (though he visited Exeter and Devon several times during his life, as recorded in his diaries), but when his archive came up for sale at auction in 2008, the University of Exeter's History department purchased Harmsworth's extensive diaries, and then subsequently acquired further documents that had remained unpurchased at the original sale. Professor Andrew Thorpe and Professor Richard Toye edited Cecil Harmsworth's early diaries, which were published in Parliament and Politics in the Age of Asquith and Lloyd George: the Diaries of Cecil Harmsworth, MP, 1909–1922 in 2016. The diaries and accompanying archive material were then kindly deposited with the University of Exeter Special Collections. Though incomplete, the archive includes a fascinating range of papers that provide valuable insight into Cecil Harmsworth's personal and professional life.
The archive comprises 27 boxes of material created during Cecil Harmsworth's lifetime, as a well as some papers added by subsequent family members following his death in 1948. It has been catalogued into the following sections: diaries; correspondence and papers; speeches and literary papers; financial papers; legal and property papers; family papers; photographs; printed material; and papers relating to the Cecil Harmsworth archive. You can explore the archive by clicking on the image below.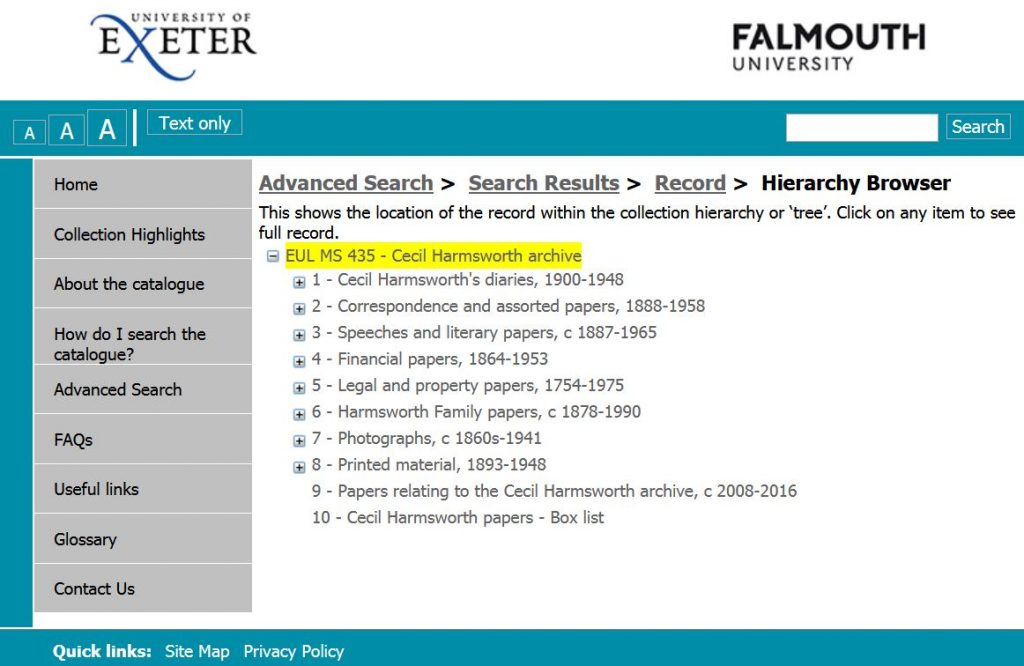 The highlight of the archive are without a doubt the collection of diaries kept by Cecil Harmsworth between 1900 and 1948. Harmsworth was a keen angler and his diary began as a record of his fishing trips. Following his election as an MP in the House of Commons in 1906, his diaries became increasingly political. Harmsworth's diaries are full of observations and notes on domestic and foreign policy, parliamentary colleagues, and his political duties as an MP. In addition, Harmsworth lived through several key historical events, including the Easter Rising in Ireland and the First and Second World War. Other notable features of his diaries are descriptions of family life, travel around the world, involvement in the Garden Cities movement, and the restoration of Dr Samuel Johnson's House in London.
The archive also includes five boxes of political, business-related and personal correspondence and papers. These include papers relating to his career as a Liberal MP in the House of Commons, as Parliamentary Under-Secretary for the Home Department under H.H. Asquith (1915), as a member of the Prime Minister's Secretariat under David Lloyd George (1917-1919), and as Parliamentary Under-Secretary for Foreign Affairs in the Liberal-Conservative Coalition government (1918-1922). This section of the archive also includes a scrapbook which, though only partially complete and containing mostly loose items, provides a fascinating glimpse into life as an MP in the House of Commons in the early 20th century. It includes letters from the Chief Whips, dinner menus, press clippings, and items of ephemera, such as tickets to the opening of the Parliament.
Though the archive predominantly comprises material created or compiled by Cecil Harmsworth, it also includes some material relating to other members of his family, including his wife, Emilie. Her name appears regularly in Cecil Harmsworth's diaries, but I was particularly pleased that the archive also includes some of Emilie's own papers. These include several files of correspondence, as well as papers relating to her training and qualification as a nurse during the First World War.
The Cecil Harmsworth archive is now fully catalogued and available to browse on our online catalogue and to access in our reading room.
By Annie, Project Archivist