What sort of books might be read by a young British administrator posted to the Middle East? To celebrate World Book Day, it seemed like an interesting exercise to have a skim through the diaries of Charles Belgrave (1894-1969), who was adviser to the rulers of Bahrain from 1926 to 1957. He wrote in his diary almost every day, and in addition to keeping a record of the day's events, personal meetings, administrative affairs and official matters, he frequently noted details about books that he had read, or films he had seen at the local cinema (which will probably be the subject of a future blogpost.)
Given the extent of Belgrave's responsibilities on Bahrain, it is remarkable that he found any time for reading at all. In addition to advising Sheikh Hamed Bin Isa Al Khalifa and his successors on financial and legal matters, he was in charge of the police and the law courts, involved in the setting up of schools and hospitals, overseeing improvements in the island's infrastructure – such as roads, electrical installations, bridge building and harbour construction – as well as dealing with the nascent oil industry, RAF and naval visits, plus the endless round of social calls with Bahraini merchants, pearl fishers, local dignitaries, British officials, American missionaries and visiting clergy.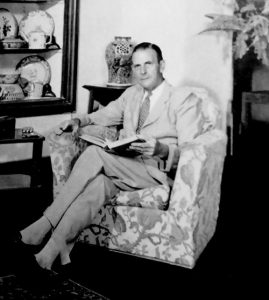 In spite of this workload – or perhaps because of it – he devoted time to reading a number of novels, both classic and contemporary. Writing in his diary late at night there was neither time nor space for extensive comments, but often he recorded his impressions in a brief sentence or two. The first book to be mentioned was Major Dane's Garden (London: Hutchinsons, 1926) by Margery Perham, a romantic novel about a District Officer in Somaliland who tries to use his gardening experiments to improve agricultural practices for the locals. Belgrave had arrived on Bahrain on 31 March 1926 and three months later, on 17 June 1926, he wrote 'Reading a very interesting book called "Major Danes Garden" about Somaliland, really extremely good, the best novel I've read for along while.' Perhaps he saw something in the idealism of Major Dane that he hoped to emulate in his own work on Bahrain?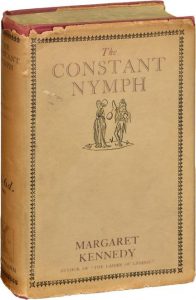 Next up was The Constant Nymph (London: Heinemann, 1924), by Margaret Kennedy. Set in the Austrian Tyrol in the 1920s, the novel follows the affairs of various members of an extended 'Bohemian' family, particularly young Teresa, or Tessa – the 'nymph' of the title – and her romantic fixation on composer Lewis Dodd, who shows more interest in Tessa's cousin Florence. He probably started reading this straight after Major Dane's Garden as on Saturday 24 July 1926, he noted: 'Finished reading "The Constant Nymph" a very unusual book, I liked it.'
Unlike many of his contemporaries in diplomatic circles, Belgrave's tastes at this time seemed to incline towards some of the more unusual and progressive authors on the literary scene. On 26 June 1927 he recorded that he had just read Crazy Pavements (London: Jonathan Cape, 1927) by Beverley Nichols – the 'original Bright Young Thing' according to Obsert Sitwell. This darkly satirical swipe at London socialites of the 1920s predated Waugh's similar Vile Bodies by three years. Belgrave recorded 'I liked it, though decidedly "modern".'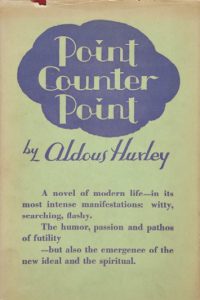 Aldous Huxley's Point Counter Point (London: Chatto & Windus, 1928) was another novel that mocked the elite social circles of the 'Twenties, but in contrast to the gossipy tone of Crazy Pavements it was a much more a novel of ideas, in which Huxley used thinly-veiled portraits of figures such as Katherine Mansfield, D.H. Lawrence and John Middleton Murry to explore the complex interaction of various intellectual theories and philosophical questions. Heavy on ideas and thin on plot, it nonetheless intrigued Belgrave: '5 June 1929 Just finished reading Point Counter Point by Aldous Huxley, one of the Tauchnitz books, quite one of the queerest, most improper and most amusing, in parts, book that I have read for a long time. I should like to read more of his.' Tauchnitz were a German publisher who specialised in continental reprints of English literary works, Point Counter Point was published as Vols.4872 and 4873 in their library of British and American Authors: due to its length it required two volumes.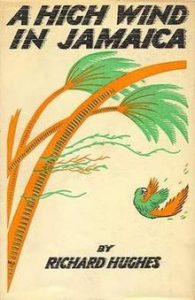 A slightly simpler read was Richard Hughes's novel A High Wind in Jamaica (London: Chatto & Windus, 1929), which Belgrave finished on 14 June 1930 and 'liked very much.' Two months later, on 17 August 1930, his diary records: 'Am reading Jane Austen again and very much liking it; I find several novels I had not read before.' He seems to have developed an interest in Austen, and on 18 December 1931 he recounted how his wife Marjorie wore a dress that they had copied from a picture in one of Austen's novels, along with a large bonnet, fan and hair locket as accessories.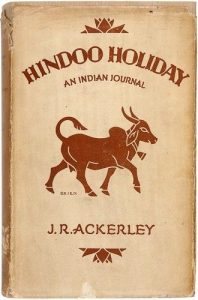 Although the Regency world of Jane Austen was far removed from life in Bahrain, some of Belgrave's reading clearly resonated with his current experience. Regarding Joseph Ackerley's account of his appointment as personal secretary to the eccentric Maharajah of Chhatrapur –  Hindoo Holiday. An Indian Journal (London: Chatto & Windus, 1932) – he wrote in his diary for 23 September 1932: 'rather improper but very amusing and in many ways not unlike this place.' Similarly, with regard to Maurice Collis's biography Siamese White (London: Faber & Faber, 1936) about Samuel White, a 17th century merchant trader from Bath who ended up as a mandarin of Siam. 'A most interesting book,' wrote Belgrave on 25 July 1942, 'the sort I should like to write myself.'
Other novels that he read were clearly just for escapism and relaxation, although it is evident that he kept up to date with what was being published. On 15 April 1946 he wrote: 'Read after lunch, an historical novel Forever Amber – very long & rather good. Some are scandalised by it but I can't see why.' Kathleen Winsor's novel about a mistress of Charles II had been published in 1944 and she was then in the process of adapting it into a screenplay for the 1947 movie of the same name, which caused even more of a scandal than her book, earning the ire of Hollywood's Hays Office.   Around the same time he was also working his way through some of Trollope's 'Barchester Chronicles' including The Small House at Allinton ('excellent reading') and Framley Parsonage, before returning to more contemporary fiction such as Waugh's Decline and Fall (20 February 1947). There was light relief in the form of Robert Hichens' satire about decadent London during the 'Naughty Nineties' The Londoners, which he found  'a very funny book – one forgets that he ever wrote comic stories' (2 June 1955).
Not all Belgrave's personal reading was fiction, and his diary entries also records him enjoying works such as William Gaunt's The Aesthetic Adventure  'an extremely amusing book…about the arty people of the 90s' and Anthony Glyn's biography of his grandmother, the novelist and screenwriter Elinor Glyn.
If anyone is seeking inspiration for reading choices for World Book Day, Belgrave's diary could provide some ideas!