From January to March 2017, we were very lucky to have Emma Burman working with us as an intern on the University of Exeter's Graduate Business Partnership scheme. Now Emma looks back at her internship and reflects on how working in Special Collections has helped her on her chosen career path…
My name is Emma and I worked as a GBP (Graduate Business Partnership) intern in the University of Exeter's Special Collections for three months from January to March 2017. GBP is a scheme designed to help get graduates into paid internships in organisations usually based in the South West. Before you ask, 'isn't an internship just slave labour?', the answer is no; the best part of these schemes is that you truly are valued. You gain paid work experience, and you are assigned a job role with its own projects and responsibilities. So they really are the perfect opportunity for any graduate!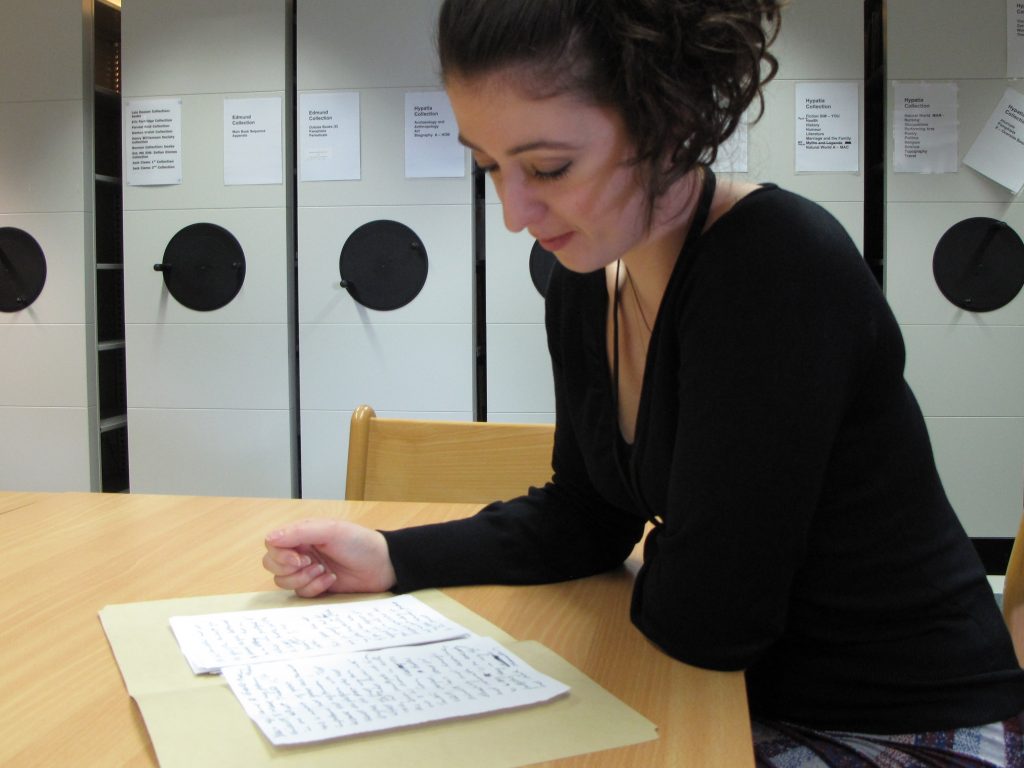 I graduated from the University of Exeter in July 2016 with a BA honours degree in History. I had known that I wanted to work in the heritage sector for a couple of years, and I had already gained voluntary experience within several museums and heritage organisations. However, after completing my university degree I found it really difficult to find a job. Most roles required relevant work experience, but in the typical catch 22 scenario, the only way to get the experience was by securing one of these jobs. As a result I ended up working part-time in customer service, trying to gain more work experience by volunteering, whilst also applying for countless jobs.
As a recent graduate of the University of Exeter, the Career Zone had regularly sent internship opportunities to me. They were generally science, geography, marketing or student services related roles, which didn't suit my interests. However, one day I saw an advert for two heritage and museum roles. They looked perfect, so I applied for them both in the hope that this could be my chance to get some paid experience. Lo and behold, I was offered the role of Heritage Collections Support Officer, working within the University's Special Collections team.
So for three months I worked full-time within a heritage organisation – my dream come true! And it really has been a wonderful experience. My main role when I arrived at Special Collections was to update the Heritage Collections website with information about various collections from the archives. I really enjoyed this project as it required a lot of in-depth research into the collections, and it provided me with the opportunity to look at and handle archival material. I also used social media and other forums, such as articles for the Arts and Culture Magazine, to advertise these updates and the work I was doing for Special Collections.
My final project was to design, research and curate an exhibition on the Norman Lockyer collection, which went on display in July as part of the International Astronomical Union symposium at the University of Exeter. It was a real honour to be entrusted with the responsibility of independently curating the exhibition for this event.
Through these projects I have learnt a lot more than just the basics. As an intern, everyone on the team has offered me the opportunity to learn about their role. I have learnt skills such as cataloguing, website maintenance, and copyright procedures.
I was even invited on a trip to the South West Film and Television Archive in Plymouth by one of our archivists to research and listen to reel to reel tape recordings from the Ronald Duncan Collection, and I became a bit of an expert on using the machines! As a result I have gained many new and different skills that are really useful in this profession.
I think the GBP schemes are invaluable as they offer university graduates the opportunities that many employers ordinarily might not be able to. They give them a chance to get their foot in the door, gain new skills, learn about the working world, and earn a good salary. I feel the importance of these schemes is evident in the fact that since being employed by the University, I have been offered a job in a heritage institution and I now feel optimistic about the future. So for any graduates, my best piece of advice would be to apply for a GBP scheme internship, because the skills and experience you will gain from it will really help you to pursue your career and achieve your goals.
Click here to find out more about Graduate Business Partnerships at the University of Exeter.
Click here to view some of the collection highlights held at the University of Exeter's heritage collections.